Need help choosing the best hosting platform for your WordPress website? Look no further!
This post will share the essential things to look out for when choosing a hosting company.
Plus, why you should choose a particular type of hosting that best fit your website needs… and lastly, give you the list of the top recommended hosting companies by:
WordPress.org itself,
experienced experts in the WordPress industry and
shared knowledge - based on the experience of different WordPress' webmasters.
WordPress powers about 39.9% of the entire website on the internet. And when it comes to building sites, it's one of the best ways to create one. It's fast and easy to get started with. Because with:
zero-coding skills,
little design skills,
little to zero server experience,
You can set your website up and running in less than 30minutes.
But before you even get to the point where you install themes and plugins, you need to find a hosting platform for your web pages and other online documents.
Companies that offer hosting services are many, and the process of selecting one can be time-consuming. And if you choose randomly, you might end up picking the one that's not the best fit for your website purpose.
Here are some key factors you'll want to consider checking before deciding which is the best WordPress website theme hosting.
What you should look out for before choosing a particular hosting company
PHP 7+ Version
MySQL 5.6+ version
99.9% uptime guarantee
24/7 customers support service
Built-in-caching
Backup system
Unmetered traffic
HTTPS support
Free CDN
Free SSL
One-Click WordPress theme installation
Think of this as a hosting checklist - a list that guides you on whether a particular hosting company is best suited to host your business website.
WordPress recommendation
PHP 7.3+ and MySQL 5.6+ or MariaDB version 10.1 versions are required to install the latest version of WordPress. WordPress.org also recommends that your host supports HTTPS.
HTTPS is a Hypertext Transfer Protocol Secure - an extension of the Hypertext Transfer Protocol (HTTP). The Secure (S) over HTTP is an added layer of security, ensuring secure communication over networks of computers by encrypting the communication protocol using Secure Sockets Layer (SSL).
Any good hosting company will either sell premium SSL certificates or allow you to use a free third-party service like Let's Encrypt to secure your website.
Most hosting companies now include free SSL certificates along with their hosting plans. But don't assume they do; check to see it's included in whatever plan you're going for.
Also, an excellent hosting company should provide a One-Click WordPress installation, and the support system should be a click away.
Any good hosting company should guarantee an uptime of about 99.9% or even 100%. That is, your website should be accessible by users - up and running 24/7. And should also come with a Content Delivery Network (CDN) for serving content to end-users in a much faster way. The CDN reduces latency and also improves response times while serving WordPress websites globally.
Types Of WordPress Hosting
You must get familiar with various types of WordPress hosting to know which one you should go for. The kind of WordPress hosting services varies greatly.
Shared WordPress Hosting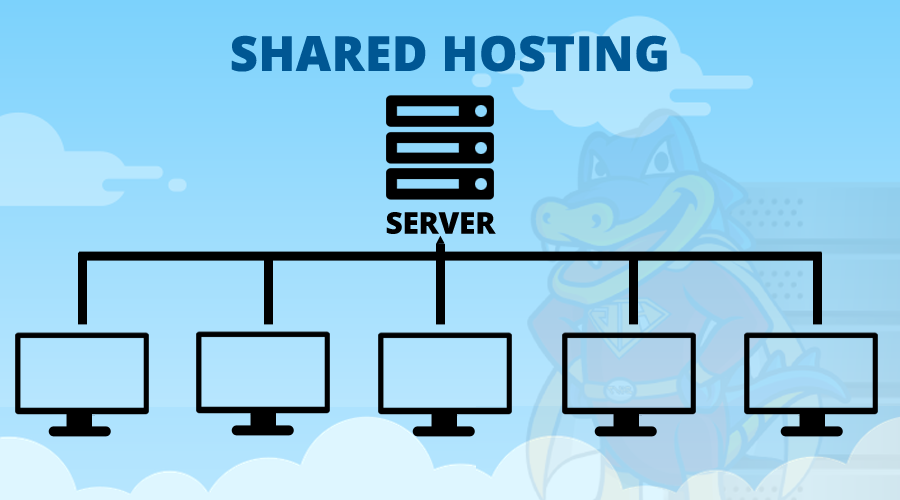 Shared WordPress hosting is the most affordable and, thus, most commonly used by bloggers and small businesses.
The word shared means typically, hundreds of domains can be sharing one server resource such as memory allocation, CPU, or bandwidth.
Shared hosting is usually slow and cannot handle too many resources simultaneously because many people are using the same server to access information from the internet.
One can start with a shared WordPress hosting and, as the business scales up, upgrade to a higher, more dedicated hosting plan.
VPS Hosting for WordPress
Virtual Private Server (VPS), also known as a virtual dedicated server, is a hosting where the server resource is divided and partitioned digitally into multiple virtual servers where individuals can claim and have root access to their own virtual space.
You can either choose between managed (the hosting company manages and maintains the server) and unmanaged server ( in this case, you are responsible for the maintenance of your allocated server)
This type of WordPress hosting is a good option for medium-sized businesses who want to manage and control their server without paying for an expensive dedicated server - and still get a decent resource limit.
With this hosting, no more slow-loading speed of your website. But the challenge here is, it requires technical skill to operate, and you'll have to manually install WordPress, unlike the shared hosting type.
Dedicated Server Hosting
A dedicated server hosting is a stand-alone server. Here, you own and control the system (all settings). What the hosting company does is maintain the physical server for you.
However, a dedicated server is expensive, but you'll have 100% control + 100% server resources.
It's not a recommendation for beginners, small-medium businesses, or blogs. It requires an experienced server professional to manage and control the software and maintain security to keep the server uptime.
Just like VPS, you'll need to install WordPress manually.
Cloud Hosting
The cloud hosting model comprises networks of servers worldwide, offering users an opportunity to host servers virtually in the cloud. It's a cheaper alternative to dedicated server hosting, which requires companies to build and manage it themselves.
Cloud hosting also offers significant savings in the capital - to build and operational cost of managing and maintaining servers. And when it comes to adding more resources on demands, cloud hosting is a better option because it's highly scalable, flexible, and delivers more efficiently.
Managed WordPress Hosting
Managed WordPress hosting, in my opinion, is the best option for hosting WordPress sites. The hosting can be shared or cloud hosting for small enterprises to more fully dedicated server hosting plans for large enterprises.
In managed WordPress hosting, you do not own the server and have complete control over it. Your hosting company handles all the technical aspects of running your WordPress sites - including security, speed, updates, daily backups, website uptime, and scalability.
Unlike VPS and dedicated server hosting, managed WordPress hosting comes with a Pre-installed WordPress for easy start-up.
How Much Does Web Hosting Cost?
The type of hosting you choose and various packages under each type will determine how much you pay for web hosting. For instance, shared web hosting is typically less expensive than most other types but comes with limited resourses, which cannot maintain optimal speed for websites with large traffic. You can read more about the cost of web hosting here.
3 Things That'll Help You Determine the Right Hosting Type to go for
1. Website Purpose - Every website has a purpose to fulfil; the purpose determines the type of website, the layout, and architecture and including the hosting plans. A personal blog or portfolio is different from an eCommerce website and that of social sites.
If your website is an eCommerce site to serve many customers across nations, you'll need a more dedicated hosting type that can handle more resources and scales as your traffic increases. But a shared hosting plan would be enough if you're building a personal blogging and portfolio website.
So, before you choose a hosting company and hosting plan, consider the purpose your website will be fulfilling.
2. Content - If your website is just a few pages, a shared hosting plan will work fine for you. But, if it's a large enterprise business with hundreds of pages, such as a corporate website, big agency, or news website—publishing tens of pages in a day, a more dedicated hosting plan would be what you'll need to handle loads of pages on your website—and as well as the traffic.
3. Web Traffic - The purpose of your business website will give you ideas about the potential traffic—now and in the future.
However, traffic doesn't come overnight; It requires an excellent online presence. When you're just starting up, a shared hosting plan will handle your traffic, and you might consider going for it. But you should have it in your strategy to migrate or upgrade to more dedicated hosting as the traffic increases.
Now that you understand the various types of WordPress hosting and the criteria for choosing one, let's look at the top WordPress hosting companies.
Top WordPress Hosting Companies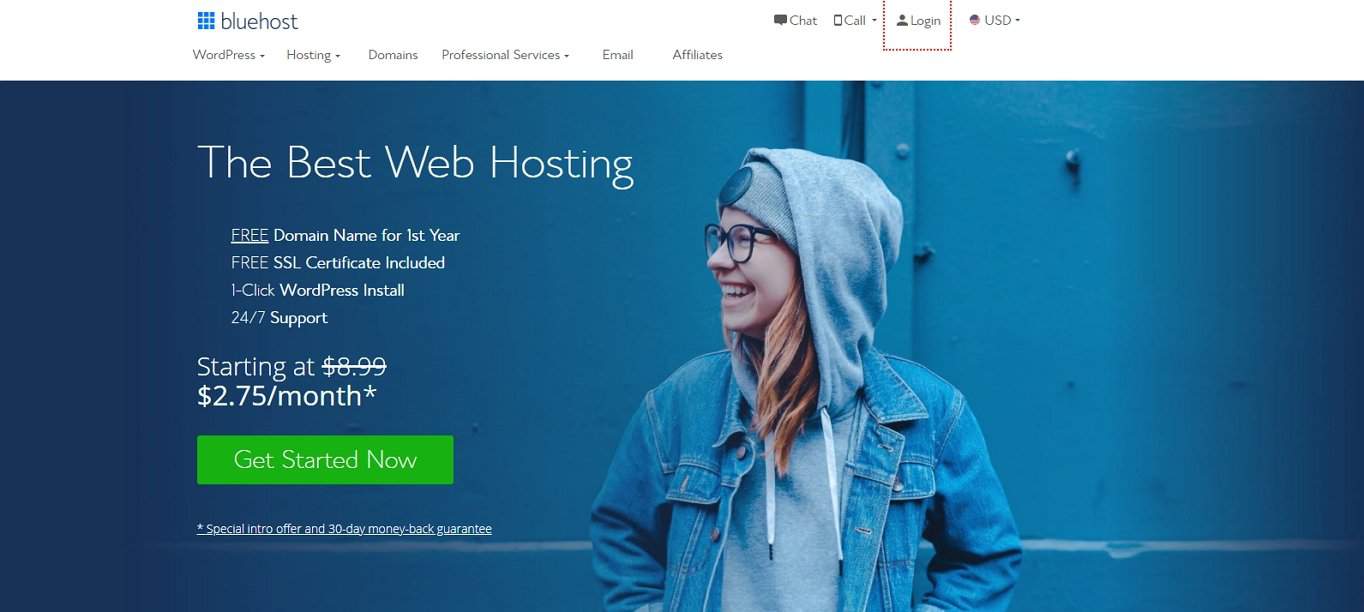 Bluehost is arguably one of the oldest hosting providers out there and is recommended by WordPress. Bluehost is known for its fast and quality support, and its servers are optimized for security, speed, and performance. Bluehost is rated no.1 for small businesses - very affordable. It has an intuitive dashboard to manage all your sites in one place.
Here are reasons you might want to go for Bluehost
24/7 Expert support services
Free CDN
Free backups
Devtools such as WordPress staging
Automatic updates
Free domain and SSL
Top-level security for your site
Intuitive dashboard to manage all of your sites in one place.
In the WordPress community, SiteGround is the most highly rated hosting company. SiteGround offers powerfully robust managed WordPress hosting for its users. And are officially recommended by WordPress.org.
Hosting your website with SiteGround comes with lots of benefits such as;
Blazingly fast servers,
Top-notch security,
24/7 Expert support,
Automatic WordPress update,
Amazing developer tools such as WordPress staging and version controls,
Free backups and
Free Cloudflare CDN and SSL.
I personally like SiteGround, and I think most people prefer its premium SEO speed booster plugin that functions just like the WP Rocket plugin, which you'll get for free.
SiteGround provides multiple data centres across Europe, Asia, and America.
If you're on a budget and still want the best, you'd be glad you choose SiteGround for your website host.
WPEngine is a premium managed WordPress hosting that offers fast and robust servers that can handle many browser requests. It's highly optimized and scaled for WordPress websites. They offer:
Automatic security update
One-Click WordPress installation
Daily backups
Auto-caching
WordPress staging.
Built-in CDN
Sounds good, right?
WpEngine also takes care of all the technical aspects of running your website - thus, making it hassle-free. Plus, you get -
all 36+ premium StudioPress themes and Genesis framework for free with all WP Engine accounts.
Top-notch customer service if you host your website with them.
If you're going for WpEngine, you're not alone. You're joining the likes of HTC, SoundCloud, and fourSquare.
Whether you're a small business or large enterprise looking for good WordPress hosting for your website, I can't recommend Kinsta enough. It just works best for you! Kinsta takes the complete management of your WordPress site and makes it hassle-free.
If you need premium and fully managed WordPress hosting, including cloud hosting, I can't recommend Kinsta enough.
The Google Cloud Platform powers it.
Equip with Lightning-fast load times.
Has a 24/7 expert support service.
Scalable for any website.
Comes with free migration.
Includes daily backups.
Automatic updates.
Ultimate security.
That's not all...
They provide a powerful and intuitive dashboard that lets you track important data such as visitors, response time, to name a few, on your website.
Kinsta has a multi-user feature, which allows you to add and grant access to any number of users in your team.
DreamHost, one of the longest-serving hosting companies, has been around for 18 years now - and powers over a million websites.
Its managed WordPress hosting, known as DreamPress, offers a fast and secure server for all WordPress websites.
A speed test conducted by Wpbeginner reveals a faster loading speed of less than a second. They claimed an incredible result was faster than 97% of all tested sites despite having no performance optimization plugins.
DreamPress basic plan comes with:
Unmetered bandwidths.
On-demand +daily backups.
Free WordPress migration.
SSL Certificate Pre-installed.
24/7/365 WordPress support.
1-click staging.
But, that's not all…
If you decide to host your website with Dreamhost, you'll get a storage capacity of -
30GB SSD - a solid-state technology that gives up to 200% better performance than the traditional hard disk drive (HDD).
Plus, you'll get a free domain.
Cloudways is a managed cloud hosting platform that manages your WordPress site on any of the five popular cloud hosting providers of your choice -
Digital ocean
Linode
Vultr
Google Cloud
AWS
Usually, installing and configuring WordPress on any of these cloud hosting providers requires some technical capabilities. But with Cloudway, the configuration process is fast and easy. They take care of the setup for you, do the migration and manage your website for you.
Cloudy has a flexible plan at an affordable rate - starting at $10/month and includes 1GB RAM, 25GB storage capacity, and 1TB bandwidth.
Also, with Cloudway, you get -
24/7 real-time monitoring
PHP 7+ servers ready
Advanced caching
Free site migration
Automatic backups
They pride themself as a hosting company helping users by removing the hosting complexity and focusing on building their business websites while delivering flexible packages.
Liquidweb (founded in 1997) is highly known for its exceptional server speed and stability in the WordPress community. They offer a complete solution for your WordPress site, providing hosting infrastructure while focusing on growing your website.
If you need a managed WordPress hosting with additional functionality such as -
Fee automatic plugin updates for your WordPress site,
Free image optimization plugin
Unlimited traffic,
Unmetered pageviews,
Free site migration,
Automatic SSL certificates,
Automatic daily backups,
Staging site tool.
24/7/365 support
Excess high-performance Cloud platform powers LiquidWeb's Managed WordPress & WooCommerce plans, with exceptional speed, scale, and security.
Managed WordPress Hosting FAQs
Why is managed WordPress hosting better than general hosting plans?
Managed WordPress hosting is a WordPress-dedicated hosting that offers a premium hosting environment specially configured for WordPress websites.
Performance is usually not well scaled to fit nicely into WordPress sites in general web hosting plans.
Plus, things like WordPress expert support, one-click installation and automatic updates, and daily backups may be missing.
I'm sure you don't want that…
What you want is a hassle-free hosting service - and I highly recommend managed WordPress hosting for you.
I can't afford premium managed WordPress hosting. Where can I get a good shared hosting plan?
You can get a Bluehost shared plan or SiteGround for as low as $3 per month, and you can always upgrade to a managed WordPress hosting plan as your business scales up.
I'll recommend SiteGround because they provide something close to enticing you to upgrade to premium managed WordPress hosting.
Does managed WordPress hosting allow Woocommerce installation?
Yes, you can install Woocommerce plugins just like any other plugins. When it comes to WordPress, managed WordPress hosting is the best option for you in the market. There's support for anything pertaining to WordPress.
Can I use my already purchased domain with a managed WordPress hosting?
Yes, you can. You can buy a domain name from one hosting company and host it with another company.
You'll need to point the DNS from where you buy a domain to your managed WordPress hosting company.
This is not a difficult task, and you can always ask for help from the company you buy the domain from.
Managed WordPress hosting has the support you can always trust.
Does the managed WordPress hosting company keep backups of my site?
Definitely, yes. All premium WordPress hosting companies keep backups of sites on-demand + daily.
Can I possibly change my managed WordPress hosting later?
Changing hosting companies for one reason or the other is a common thing in the hosting business, and every hosting company is aware of it. That's why they have free WordPress migrations.
So, feel free at any time to do so. Your business matters a lot.
How do I migrate my WordPress site to my new managed WordPress hosting account?
When you commit with a new hosting company about them hosting your site, they'll be glad to transfer your site at no additional cost.
What's so special about the managed WordPress hosting?
It's the support for your WordPress that you don't get anywhere.